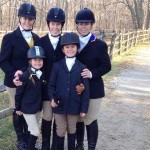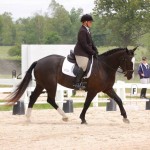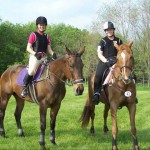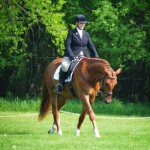 My passion for horses started when I was three years old. Growing up in Bannockburn, Illinois, my mother was a horse lover and always figured it was safer for us playing in the barn to be on the horse than under. Today, I am the on site manager of DonBar Farm in Wadsworth, Illinois with 80+ horses. I have been boarding at DonBar for twenty years now and have been the manager since 1997. I live on the farm with my husband, Dave Volpentesta, and our daughter, Mia.
My mother, Sue Weiland, was the first in the family to gain interest in horses. In the early 70s, she, along with a few other parents, started the Bannockburn Pony Club where she was both District Commissioner and instructor. This is where I learned how to care for and ride horses, which has led me the horse person I am today.
Since then, horses have been at the center of my life. In 1994, I started boarding at DonBar Farm after a recommendation from several friends with horses in the area. DonBar was regarded as a friendly, trusting and affordable stable to board my horses, and have been here ever since.
In 2010, I took my first jump lesson in years. A short time later, I qualified for American Eventing Championships at Beginner Novice in Georgia as well as earned my Gold Medal in 2012. I continue to event along with my daughter, Mia, who too has become passionate for horses. Mia is now part of the Old Mill Creek Pony Club at DonBar and the third generation horse enthusiast in the family.
From riding English, to Dressage, Eventing, Reining and most recently Foxhunting with the Mill Creek Hunt- I truly love caring for horses of all kind. Although a person passion, horsing is without a doubt a family endeavor and we promise to care for your horse as if it were one of ours. If you are at all interested in learning more about DonBar, please feel free to call me or stop by anytime. I always say my boarders are my best advertisement, so would love to have you visit. We look forward to welcoming you to DonBar Farm.
-Alison Volpentesta
On Site Manager